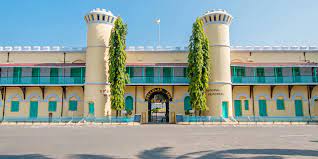 Reach Port Blaire, transfer to hotel. After breakfast visit cellular Jail. The Cellular Jail, also known as Kālā Pānī (lit. 'Black Water'), was a colonial prison in the Andaman and Nicobar Islands, India.
The prison was used by the British government for the purpose of exiling political prisoners to the remote archipelago.
Many notable independence activists, including Diwan Singh Kalepani, Fazl-e-Haq Khairabadi, Yogendra Shukla, Batukeshwar Dutt, Shadan Chandra Chatterjee, Sohan Singh, Hare Krishna Konar, Shiv Verma, Vinayak Damodar Savarkar, Sudhanshu Dasgupta were imprisoned here during the struggle for India's independence.
Light & Sound Show of Cellular Jail The history of the Andaman Islands and the Cellular jail is depicted vibrantly through a Sound & Light Show every evening in the premises of Cellular Jail.
This is a must-visit show for every tourist.
Overnight stay in hotel.